Commercial solar heating systems generally require storage tanks that can easily reach thousands of gallons, making the tank potentially one of the single most expensive items selected during the solar system design phase. SunEarth offers a complete line of steel ASME rated pressurized storage tanks with options for lining material and insulation thickness. Additionally, for certain solar heating system designs SunEarth has UL listed non-pressurized options available up to 5,000 gallons of capacity.
Properly sized storage tanks are essential to a smooth running solar heating system. An undersized tank will often lead to over-temperature conditions in the tank that can shut off the pump and bring the solar array into stagnation. On the other hand, an oversized tank yields little benefit in performance at a significant financial cost.
The purpose of the solar storage tank is to store the thermal energy gathered from the solar array during the day until it is required during the typical evening and early morning hot water utilization cycle. Generally solar tank temperatures start out near ground water in the morning and rise to 140°F-160°F in the late afternoon. Whatever your application, SunEarth can supply non-pressurized tanks, ASME tanks, and stainless-steel tanks.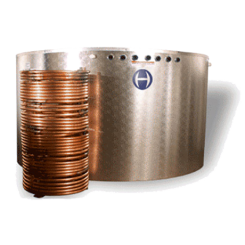 SunEarth Thermal Storage (SETS)
SunEarth Thermal Storage (SETS) Tanks are extremely durable and light weight.
Learn More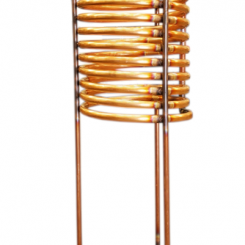 SunHelix
A cost effective heat exchange solution fabricated from seamless copper tubing with no ferrous metal components.
Learn More